Gig Review-"The Power (And Pitfalls) of Parasociality and Internet Celebrity in the Mediation of K-Pop Music Festivals: A Review of We Bridge Expo in Las Vegas, Nevada," Sharon Kong-Perring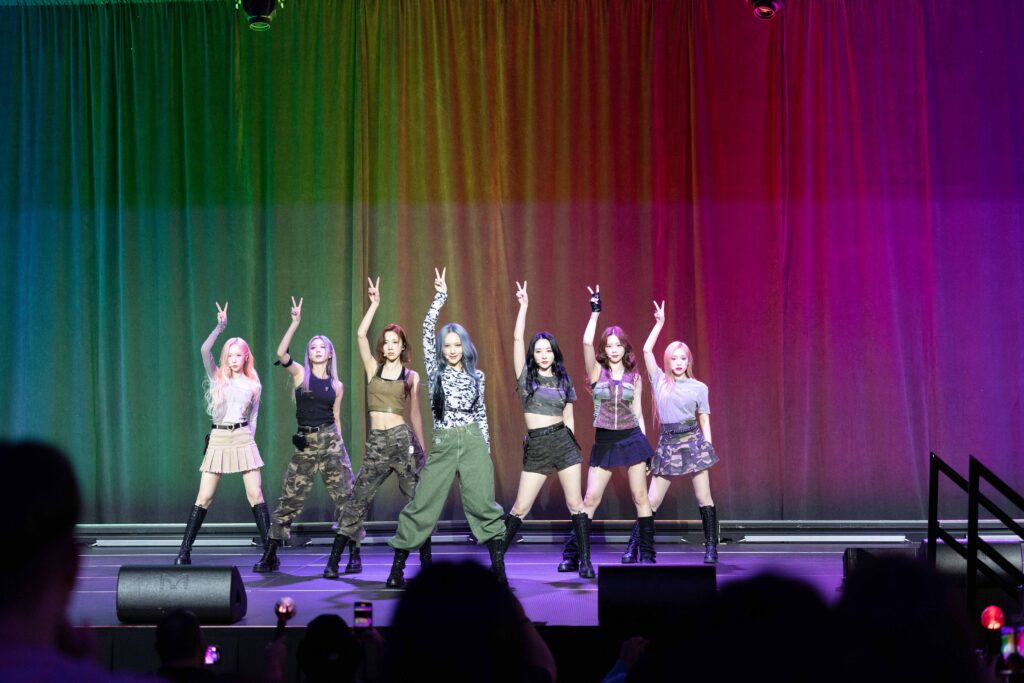 K-Pop group, DreamCatcher, performing on the Grammy Museum Stage during We Bridge Expo.
Image Courtesy of Infinite Prospects Entertainment, Peter Byun
We Bridge Musical Festival and Expo, Las Vegas, Nevada, USA
Infinite Prospects Entertainment
Reviewed for Riffs by Sharon Kong-Perring
If you, dear reader, naively thought that South Korean boy band behemoth, BTS's temporary hiatus, and disbandment for mandatory service in the South Korean military would diminish the influence and popularity of K-Pop around the world, then this gentle pat on the head is for you. Amid assumptions that the rapid convergence of K-Pop music into the popular mainstream would be curtailed, global K-Pop fandoms (and K-Pop groups) emerge stronger in number than ever. This assertion is evidenced by the growing presence of "K-Culture" and/or "Asian Culture" conventions, expositions, and music festivals that have either exponentially expanded in the last decade or new iterations of this venture cropping up around the world. The most recent enterprise to join this burgeoning list was the We Bridge Music Festival & Expo, organized by Infinite Prospects Entertainment. Billed as a 3-day, 2-night cultural expo by day and multi-artist concert by night in Las Vegas, Nevada, USA, this fledging festival sought to share Asian culture and highlight Asian accomplishments with its attendees. While the basic packages, clocking in at $300, granted ticketholders entry into the "nose bleed" seats at the concert and general entry to the expo floor, top tier VIP packages–ringing in at a cool $3,000– also included extra perks like soundcheck, artist engagement preferred seating, and front row at the music festival.
While the actual execution of the event was not without the growing pains of an event's first year of existence (we will discuss that in further detail shortly), the event holds promise as a western-North American alternative to market dominators like K-CON (a Korean-focused cultural expo and musical festival usually held in Los Angeles and New York City every year, as well as other international destination such as Japan and Thailand). Here I must include a disclaimer: I very much enjoyed my experience at the nighttime music festival. As an academic who researches K-Pop fandoms, as a journalist, as a fan of K-Pop, and a Korean-American woman, it was thrilling to see this representation on stage in a growing bid to expand the visibility of Asian heritage. However, where I believe organizers can vastly improve on that mission of cultural promotion is in the daytime expo itself; this review will focus, therefore, on the event's daytime activities. If We Bridge can address the organizational and logistical hiccups they experienced this first year, build out its cultural offerings to provide other engaging learning experiences, and leverage sociocultural partnerships, then this expo and festival can continue to grow and serve its attendee in propitious ways.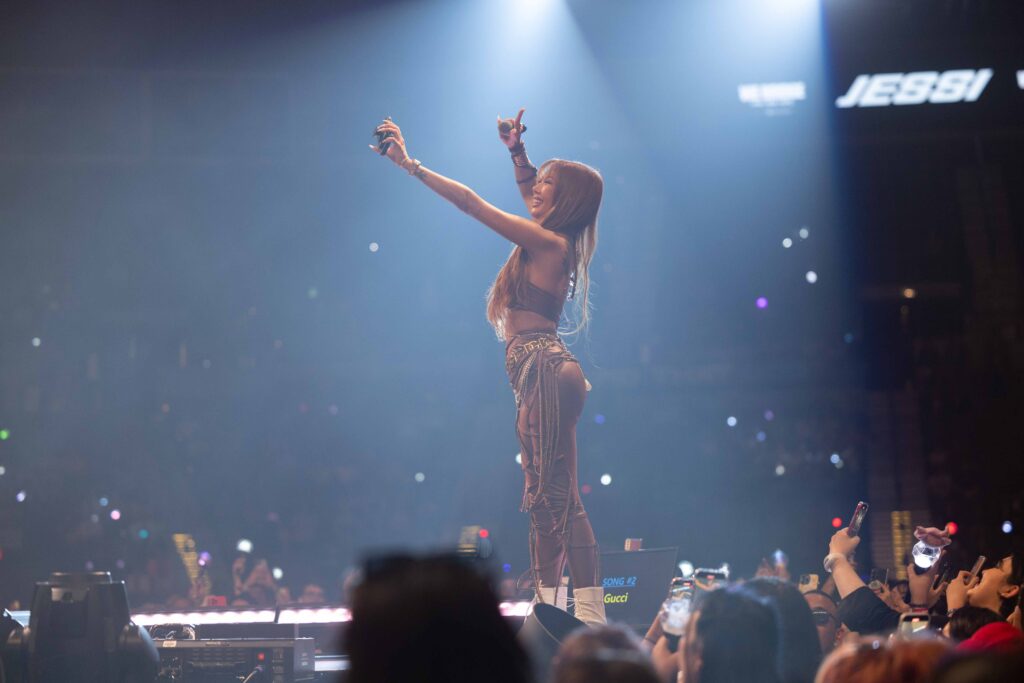 K-Pop solo artist, Jessi, performs during the first night of the We Bridge Music Festival. Image Courtesy of Infinite Prospects Entertainment, Peter Byun.
The event opened on a Friday morning at the Mandalay Bay Convention Center, with an encouragingly long registration queue that held the promise of a well-attended first expo day. And while the numbers on the expo floor were smaller at first, the presence of K-Pop fans and those with an affinity for Asian culture steadily grew throughout the day and on subsequent days of the festival. From the outset, communication between attendees and organizers was slightly disjointed, and while organizers did their best to ameliorate any issues created by these oversights throughout the weekend, logistical missteps did not allow participants to fully appreciate or experience some of the offerings. One of the most significant and visible instances of this was a bungled soundcheck offering for VIP ticket holders. By the close of the weekend, a consolation was offered to those elite VIPs but not before fans experienced acute amounts of frustration. One fan, who had traveled a whopping, near-9000km (over 5,000 miles) from Europe to attend as one of the top-level VIP ticket holders, lamented the stress of what to do in the aftermath of one of the perks being left undelivered. The organizers did not leave fans without answers, fortunately, but the weekend was punctuated with various logistical faux pas, including an ever-ephemeral schedule of events.
The expo floor hosted a handful of Asian-heritage artists and pieces of artwork as well as an "art-in-action" installation, some vendors of K-Pop and Korean heritage-related merchandise, and various AAPI-owned food booths that offered small samples of their menus. Perhaps in the future, We Bridge can incorporate more hands-on cultural activities and vendors— maybe a language-learning vendor, or a cooking class, or a panel on Asian history, or a panel with the artists whose work was on display (maybe more panels in general?)– these sorts of activities were what I had hoped to see in fulfillment of their mission of "promoting Asian culture." As a researcher and cultural heritage site professional, I regularly work in the programming space, and I believe We Bridge has the ability to build out its expo and cultural offerings in events to come as well as amplify existing offerings from this year.
We Bridge's collaboration with the Grammy Museum–a cultural organization and museum operated by the Recording Academy– to host K-Pop artist interviews throughout the expo days was one of the more robust offerings for expo-goers. It allowed fans moments of parasocial bonding; many fans live-streamed/live-tweeted Q&As and mini-performances for fellow fans who were unable to be in attendance–an act that many of us in the Fandom Studies field would dub "contributing to/being productive towards the collective fan archive/canon" (Price 2019, Jansen 2020, DeKosnik 2016). These performances and interviews were, by far, the crowning achievement of We Bridge's daytime expo activities, though also plagued with some technical lapses (In one instance, there were hot mics on the K-Pop idols right after they got off stage from a performance so fans could clearly hear what they were saying. Luckily the idols spoke in Korean, so no significant issue took place as most of those in attendance could not speak the language) and some lapses in judgment (during one Q&A session, unvetted questions were opened up to the audience; this resulted in some uncomfortable moments when a fan inquired about mental health, a taboo subject in K-Pop rhetoric). Despite small fumbles, this collaboration was an appreciated one and hopefully, in future expos, these logistical wobbles will become a thing of the past. I fully anticipate that with the Grammy Museum's potential for programming (I say this again as a cultural heritage professional working as a museum curator actively in the field) and We Bridge's potential for organizational improvement, this aspect of the expo will become a popular fixture.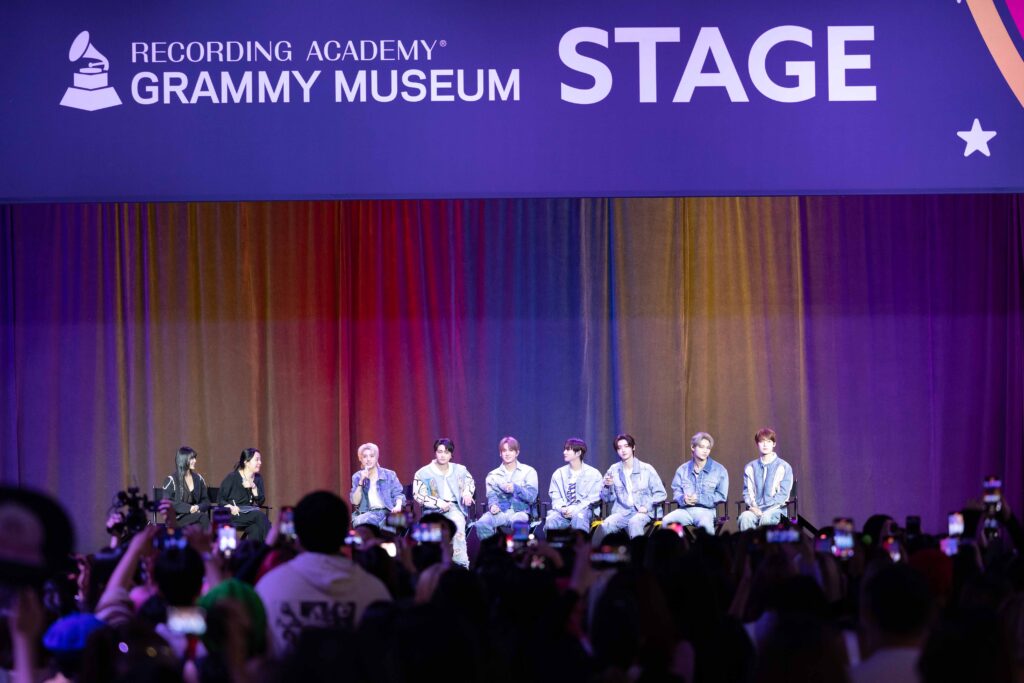 K-Pop group, ENHYPHEN, participating in a Q&A Session with the Grammy Museum during We Bridge's daytime expo. Image Courtesy of Infinite Prospects Entertainment, Peter Byun.
This brings me to my last observation of the expo for which I will assume my role as a media/cultural studies/fandom studies scholar: We Bridge relied heavily on the power of internet celebrity and Niche Creator Industry content to mediate the event, sometimes at the expense of traditional media coverage, as well as limited their scope to very particular thought leaders and tastemakers. Niche Creator Industries ("NCIs") refers to the network of micro-celebrity fan that holds great parasocial power via their fan personas (Moore 2022). While fan creator marketing has been seen as a free source of marketing and co-opting fan labor, I argue that these creators and their paratextual creations based on Asian culture take place either within traditional economies (i.e. digital media outlets) and/or within new media economies that have emerged from being productive towards Asianness and Asian culture as a commodity. Social Media, and YouTube in particular Paula Fernandes (2022) asserts, "presents possible careers in contemporary society… it is a professionalization of a lifestyle" (44). Fan celebrities in niche creative industries have power/influence and have made it a professional endeavor to create content–as such that productivity should be utilized. However, such creator reliance and entertainment-focused scope/preoccupation with internet celebrities of those invited to collaborate in the expo may have prevented organizers from seeing the cultural forest through the trees. I was marginally surprised that some prominent AAPI names local to Las Vegas/Nevada were not present at the expo including New York Times Best Selling authors famous for telling Asian stories, legendary AAPI restauranteurs, or the first-ever Asian-American female politician elected to Nevada's state legislature.
Perhaps this was not the aim of the expo or perhaps the focus was always meant to be on the nighttime concerts (also not without some logistical issues like accidental ticket cancelations, but that was a box office issue not an organizer's one from my understanding). However, I–-again in asserting all of my relevant positionalities as a researcher, a person of Asian descent who has gone through all the difficulties of identity grappling that comes with being part of a diaspora, a cultural heritage worker, a journalist, etc. etc.– think We Bridge can really become that touch point that many fans of Asian pop culture, namely K-Pop, need in order to become more fully engaged with what's new and next with Asian/AAPI culture. We Bridge, with its collaboration with the Grammy Museum and its partnerships with visible creators, has the potential to be one of the standout cultural expositions in this market as it grows. I hope, as organizers contemplate in what direction they would like to evolve, they consider these observations. In the meantime Infinite Prospects Entertainment, you know where to find me.
References
De Kosnik, Abigail. 2016. Rogue Archives: Digital Cultural Memory and Media Fandom. Cambridge, MA: MIT Press.
Fernandes, Paula. 2022. "YouTube Celebrities: Parasocial Relationships toward a Digital Influencer Career." In Celia Lam, Jackie Raphael, Renee Middlemost, and Jesica Balanzategui, eds. Fame and Fandom. Iowa City, IA: University of Iowa Press.
Jansen, Dennis. 2020. "Thoughts on an Ethical Approach to Archives in Fan Studies." In "Fan Studies Methodologies," Julia E. Largent, Milena Popova, and Elise Vist, eds. Transformative Works and Cultures, no. 32. https://doi.org/10.3983/twc.2020.1709.
Jenkins, Henry. 2016. "Why Study Fan Archives." Pop Junctions: Reflections on Entertainment, Pop Culture, Activism, Media Literacy, Fandom, and More. Available at: http://henryjenkins.org/blog/2016/10/why-study-fan-archives-an-interview-with-abigail-de-kosnik-part-one.html
Moore, Christopher. 2022. "Fan Creator Personas in the Nichel Creator Industries." In Celia Lam, Jackie Raphael, Renee Middlemost, and Jesica Balanzategui, eds. Fame and Fandom. Iowa City, IA: University of Iowa Press.
Price, Ludovica. 2019. "Fandom, Folksonomies and Creativity: the case of the Archive of Our Own." In David Haynes and Judi Vernau, eds. The Human Position in an Artificial World: Creativity, Ethics and AI in Knowledge Organization. Baden, Germany: Ergon Press.
Thank you to Infinite Prospects Entertainment and We Bridge Music Festival and Expo for giving our publication the opportunity to experience the inaugural festival as a member of the press.