We are pleased to announce the launch of Volume 3, Issue 2 of Riffs: Experimental Writing on Popular Music. This issue focusses on ideas related to the music festival…
Of liminality and repetition, the real and the unreal, Of festival and noise, time and perception.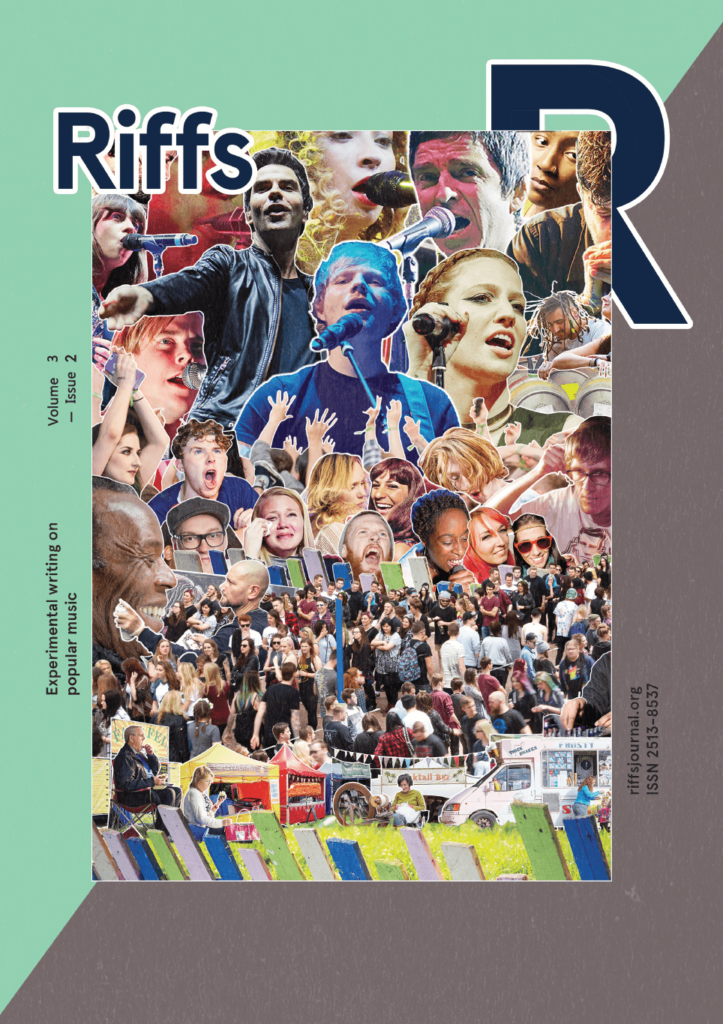 A huge thanks to all of our marvellous contributors who responded in such unexpected and creative ways. We are proud the bring together that work under the Riffs banner.
If you would like to download a free PDF version (15Mb) of this issue click here.
Elsewhere on the Riffs site you'll find individual posts for each of the contributions in this new issue where you'll be able to read each piece and download PDFs. Click on the links below to visit those pages:
Editorial – Sarah Raine and Craig Hamilton
A Festival of Human Crisis – Patrycja Rozbicka, Gemma Bird and Amanda Beattie
Ship 'Fam', Festival 'Virgins' and a Cruise to Nowhere: Liminality and cruise ship festivals – David Cashman
Psychedelic Aesthetics and Territorial Agency-ing – Ana Ramos
'The Undiluted Squash of UK Math Rock': The Performer's View of ArcTanGent Festival – Joe O'Connell
A Journey in the World of Queer and Feminist Punk Festivals – Louise Barriére
Ritual Sacrifice in the Music and Noise of a Metal Festival – Owen Coggins
Riffs will return in 2020 with a double-issue special volume that will consider ideas of music and technology. We have some exciting ideas for other activities linked to those two issues that we hope to be able to tell you about very soon.
As ever, if you work like to discuss working with Riffs on projects related to writing, publishing, or popular music please don't hesitate to get in touch.
In the meantime, please enjoy Volume 3, Issue 2 of Riffs.